November 13th, 2012
---
01:24 pm
She was a much better writer than I was. Sad she quit.

February 25th, 2010
---
11:28 am - For Now, At Least
I think I might quit blogging.
February 19th, 2010
---
10:38 am - Long Live the President???

Last night we went up to the Circa History Museum (there was a circus zebra loose on the highway - that's not why our traffic was bad, but hearing about it on the radio kept us entertained most of the way up). The guest speaker was a personal friend of Ronald Reagan's. During the course of the evening he mentioned House Bill 5. No one knew what it was. He told us that it was a bill that would do away with amendment 22 - the amendment that says that the presidency is limited to two terms. If the 22nd amendment were repealed, our current president (and anyone thereafter) could be president for life. Sounds more like a king/dictator than a president to me. What do y'all think? Below (in red) is from Mom's blog and you can check out the sources (in blue).

This ought to scare you. Direct from

Thomas

(the legislative information network of the Library of Congress).

H.J.RES.5
Title: Proposing an amendment to the Constitution of the United States to repeal the twenty-second article of amendment, thereby removing the limitation on the number of terms an individual may serve as President.
Sponsor: Rep Serrano, Jose E. [NY-16] (introduced 1/6/2009) Cosponsors (None)
Latest Major Action: 2/9/2009 Referred to House subcommittee. Status: Referred to the Subcommittee on the Constitution, Civil Rights, and Civil Liberties.

I supppose since it hasn't been squashed and is just sitting in committee, it's potential is still there.

This article explains a bit better.



February 15th, 2010
---
10:41 am - Waiting

"There are seasons when to be still demands immeasurably higher strength than to act."
From Streams in the Desert



February 11th, 2010
---
11:39 am - For Grandma

Here's the Coke commercial we keep mentioning. I know you'll have to watch it on Grandpa's computer, but thought "why not?" anyway. :o) It's the one with the tune I've had stuck in my head since Sunday. I guess that's what you call good marketing.




February 8th, 2010
---
03:02 pm - Those Days
Do you ever have one of those days where...

You put your pants on backwards and wonder why they don't fit?

You can't make your bed because the cat is sleeping on it?

You realize you're putting the sugar away in the fridge instead of the pantry?

You start to brush your hair and then realize you're using the wrong end?

...

Or is it just me?

...

No wonder I'm amazed when the banana bread comes out of the oven looking like a loaf of bread.

...

My life is is full of those days. And I love 'em.


February 6th, 2010
---
11:36 pm - Mother/Daughter Weekend
Here are just a few pictures from the Mother/ Daughter Winter Encouragement. Photo credits go to Mrs. Soto (thanks so much for blessing us in that way!!).
About 100 ladies attended. It was so good to fellowship with them, make new friends, officially meet ones you knew (small world!), and grow closer to the ones you were already blessed to know.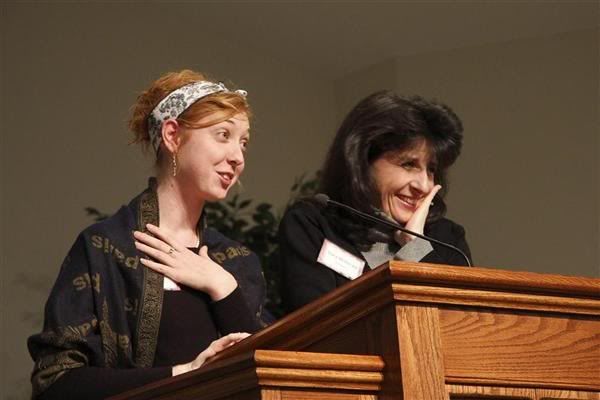 What a treat to have Mrs. McDonald and Tiffany come down for the weekend!!
A little loopy?? Too much caffeine?? Not enough sleep?? Having a good time?? Maybe it was a combination...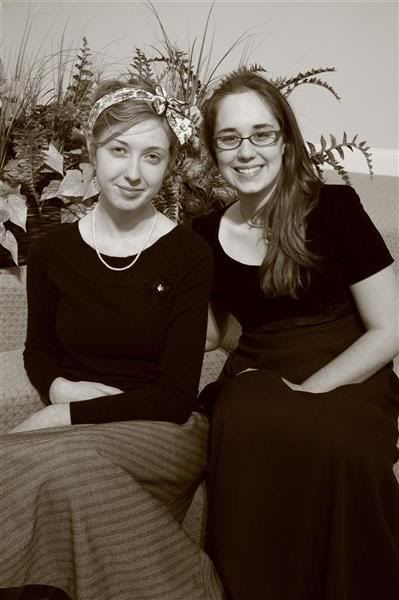 Of course, this is what we're normally like... *cough, cough*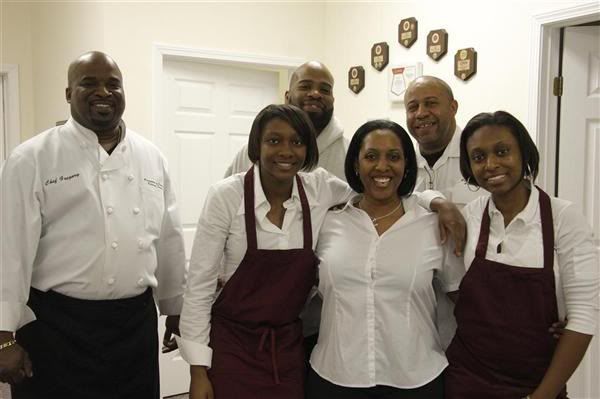 Chef Gregory and his team did an awesome job the whole weekend!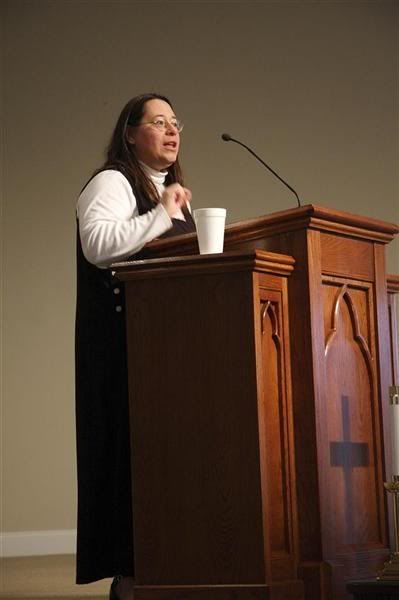 Mom did a great job of making sure things ran smoothly.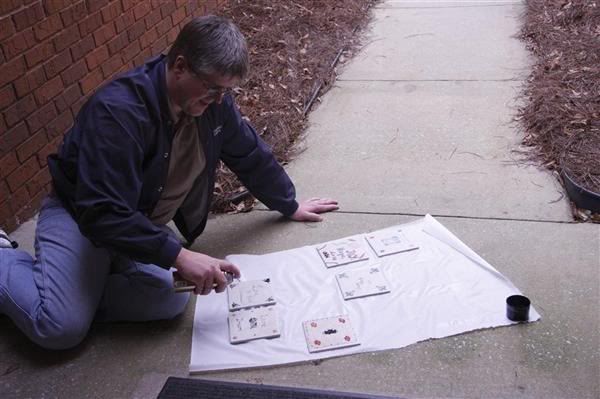 The guys were so helpful the whole weekend and we are so grateful to them for giving up their time to make sure our weekend was a great one.
Here's a sweet little girl making a journal during craft time.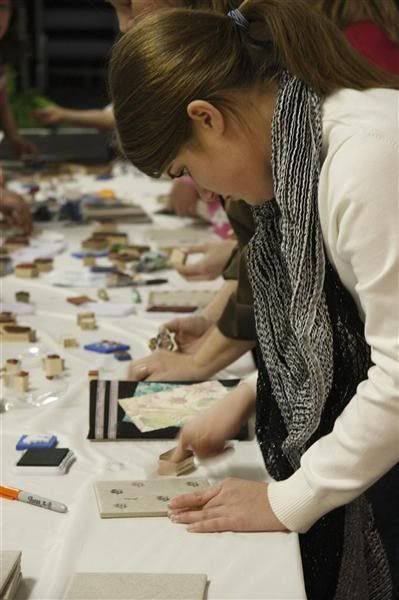 Making trivets out of tile was another craft.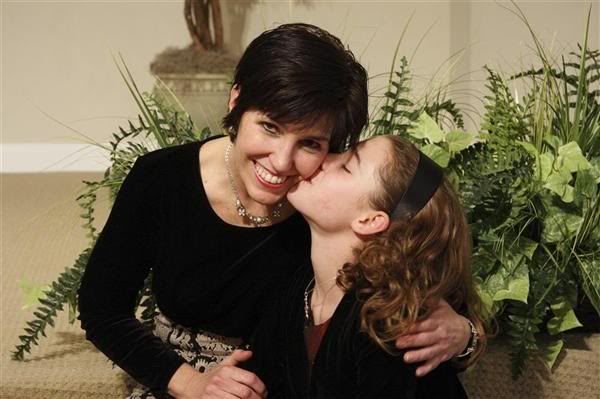 Mrs. McKibbin did a fantastic job leading the singing. We couldn't have done it without her help! Here she gets a kiss from her lovely daughter.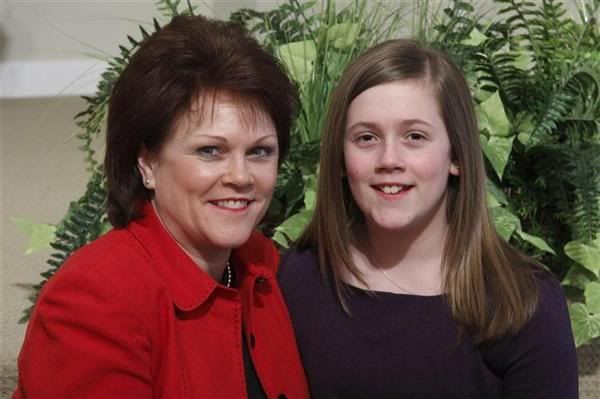 Saturday was our friend, Hayley's, birthday. We were so delighted to be able to spend it with her!
We were using this room as the craft room, but on Saturday afternoon it underwent a major makeover and became the tea room - "Winter Wonderland".
I can't even begin to describe the desserts we had for tea. It was all so amazing.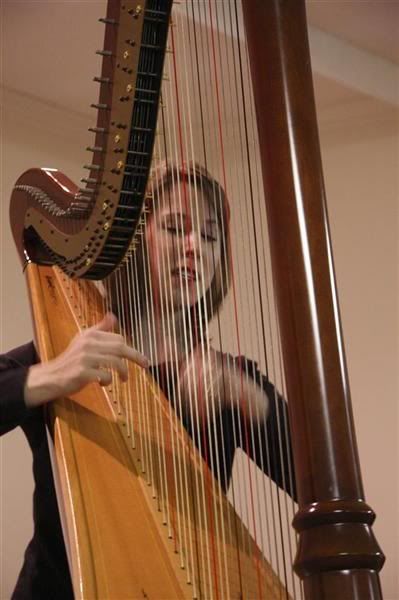 Kristi Pass was wonderful to come and play for our tea. Delightful!!
It was an encouraging weekend for us and we are so blessed.
"The wise woman builds her house, but the foolish tears it down with her own hands."
Proverbs 14:1
February 5th, 2010
---
10:30 pm - My Little Sister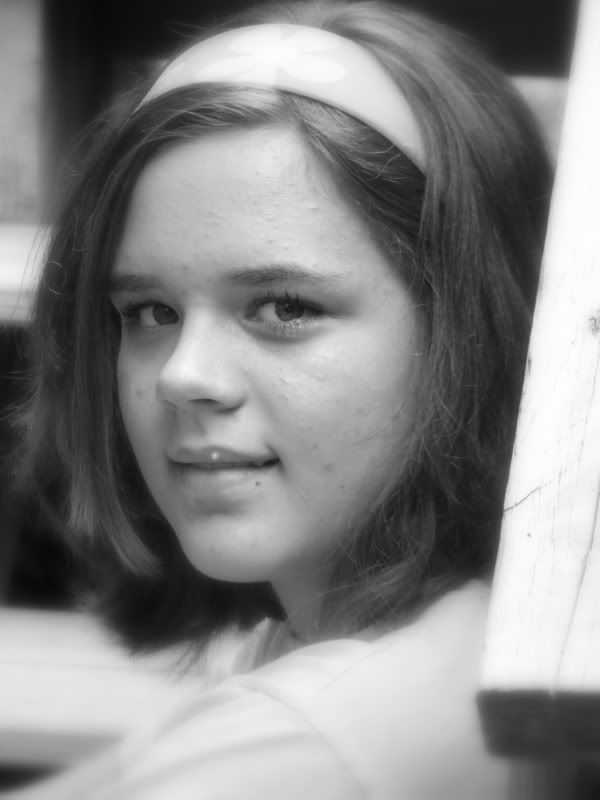 Sometimes I wish I was just like my little sister.




I know, I know...your birthday isn't for another 2 months (less than actually!), but I just felt like telling everyone how awesome you are. :o)

Thanks, sis, for listening to my rambling that usually lasts until the early morning, for putting up with my annoying habits, and for loving me when I'm just downright crazy. Words can't tell you how much I love you, but... I love you.

In case you haven't heard, she now has a blog. You can check it out here. She also started taking violin lessons today. I'm looking forward to hearing her first song! Way to go, sis. :o)





(Especially 'cause you will know what I mean when I say that you spell waaaay better than Photobucket. LOL)

January 27th, 2010
---
01:00 pm - I've Been Thinking

Sincere thanks to those of you who sent my brain back my way...it's a little exhausted from its travels, but at least it's home. ;o) For a little while anyway...

I know, I know - tomorrow we're decorating the church in the morning and picking up the speakers from the airport in the afternoon (not to mention that we need to be printing off nametags, schedules, and handouts and making sure all the loose ends are tied together) - so what in the world am I doing posting now???

Well, lately I've been thinking a lot about the storms of life and stress and broken dreams and jumbled plans. And I am learning to embrace that only one thing matters amid all that chaos - walking in God's will. Dreaming His dreams and being drawn closer to Him.

Today I've been thinking about the life of Jesus. My devotions in Experiencing God Day-By-Day yesterday were about praying the way Jesus prayed. Are we willing to throw our whole self (to the point of groanings and tears and crying out) into prayer and still say at the end "Thy will be done"?

And He went a little beyond them, and fell on His face and prayed, saying, "My Father, if it is possible, let this cup pass from Me; yet not as I will, but as You will." -Matthew 26:39

Also, I've come to realize that Jesus wasn't trying to avoid death. He knew He would just rise again in three days. Death wasn't ominous to Him; it was being separated from God. God is a holy God. He cannot have anything to do with sin. Sin cannot come before Him. Jesus was about to take on the sin of the world and, therefore, be separated from God. According to God's amazing and loving plan, Jesus was the Ultimate Sacrifice who took on our sin and, with that sin, was crucified. Our sin was crucified along with our Lord. By God's gracious plan, Jesus rose from the dead three days later and therefore conquered death (sin). In a way, our sin had died with Him and He had risen perfect, defeating our sin. Jesus knew that this was going to happen. He knew that sin would be conquered and a right relationship with God restored. And yet He wept and plead because the most important thing to Him was being one with God.

For a day in Your courts is better than a thousand outside.
I would rather stand at the threshold of the house of my God
Than dwell in the tents of wickedness.
-Psalm 84:10

There was a huge lesson in this for me! Jesus did not cry out because what was coming would ruin His dreams and plans, but because He would be separated from God. Doesn't it seem to you that we so often do just the opposite? Often we do not cry out because we are not walking closely with our God, but because our dreams and plans are being squished. Yet, as the Bible says and as Jesus modeled, the most important thing ever is our relationship and walk with God.

"My goal is God Himself...at any cost, dear Lord, by any road."

I can say that I believe that statement. But do I really embrace it? Am I living it? Or am I living this statement more:

"My goal is mostly God Himself...at any cost, except the cost of my will, plans, and dreams, dear Lord, by any road, except the road I don't want to go on."

Am I willing to be clay in the Potter's hands?

Of course, this doesn't mean that God doesn't care about our desires. But we must leave that up to Him. It's our job to be open in prayer before God and then trust Him for the answer. One way God has recently answered my prayer has been a wonderful reminder of this fact.

We had about 96 people registered for the Mother/Daughter Winter Encouragement this weekend and we had already paid the caterer accordingly. Well, earlier in the week we had people cancel and so our number dropped to under what we had payed the caterer for. Since then my goal had been getting enough people to register so we could bring the count back up to 96. I told Mom I felt like Abraham when I imploringly asked God, "Just 5 people, Lord?" As I've posted before, never underestimate the power of God. Yesterday was the very last day to register for this weekend. Yesterday morning we were still 5 people short. By yesterday evening, however, our final count was 99 (3 more than we had asked God to send). A very powerful reminder to never doubt God. He can and will do above all that we ask or think (Ephesians 3:20).

Speaking of the Mother/Daughter and this weekend...I need to get back to work. Thank you all so much for your prayers for us this week - they are making the difference.

January 20th, 2010
---
12:39 pm - Peace, Be Still

Sorry I haven't posted in a while. It did snow the day I last posted. It had sort of snowed (more like slush/thick rain) while we were out running errands that evening and then it had stopped, so we thought that was all that was going to happen. We came home and had a family movie night and afterwards I sort of just casually looked out the window and saw that it had snowed while we were watching the movie and that there was a white dusting (key word) on the ground. It didn't stick around for long, but the roads were icy for a while and the city had to spread sand out to help. Now the ice is all gone and average temperatures (for this time of year) have pretty much returned. The first day of sunshine after that super cold spell was like a breath of fresh air. Even though it's really only 45*F-60*F here, J has been running around in shorts and t-shirts every day. He must've retained his northern blood. ;o) But I think everyone is so happy to have the sunshine back.

I am going to post pictures of the snowfall... The pictures are still on the camera and from there they have to be uploaded to the old computer and then put onto a memory-stick-something-or-other and then transferred to the new computer and then loaded to a website and then posted to here... And since I haven't the slightest idea how to do any of that (except the last two steps...hehe), I can't post the pictures right now. But as soon as I can get someone to help me, I'll try my best to get it done.

Lately I've been really busy working on registrations and getting ready for Southeastern Christian Home Discipleship Families' Mother/Daughter Winter Encouragement. The speakers fly in in 8 days and right now we are working on tying all the loose ends together. Registration has slowed down this week and I feel like it is just the lull before the storm. Next week is going to be crazy.

So if you don't hear from me, it isn't because I've gone missing...though I might lose my mind early on, so if you find this little silly looking thing running around, it might just be my brain...so please point it in the right direction and tell it somebody's missing it and that they'd be most obliged if it came home asap.

Joking aside, I do believe this coming week will be an extremely busy one. But my faith teaches me not to worry in the storm - God's grace, strength, and peace will carry me through. And, God will it, I'll come through walking closer with my Savior and with my crazy little brain intact.

Specifics to pray for in these coming weeks:
The people and workers in Haiti - they are going through a much bigger storm than most of us could imagine.
Focus on the Family - they are putting out a commercial for the Super Bowl and need God's strength and protection for this battle.
Southeastern Christian Home Discipleship Families' Mother/Daughter Winter Encouragement and for all to go smoothly and bring honor and glory to our Heavenly Father and also for the moms and daughters attending to be encouraged and blessed.

Philippians 4:6-7, 13